The Hahnemann Laboratory
and Pharmacy...

...are located in San Rafael, California, in beautiful Marin County, just thirteen miles north of the Golden Gate Bridge.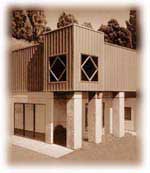 We deliberately chose to build the laboratory in this location because we wanted to prepare these special medicines in as clean and natural a location as possible while remaining close to our roots in the Bay Area. We are upwind of the highways and industrial centers of the region and enjoy seeing the deer which sometimes walk through our parking lot.
This FDA licensed laboratory was designed from the ground up to provide as clean an inside environment as possible. This is a very common practice in the computer industry in Silicon Valley just forty miles south of San Rafael. They build "cleanrooms" in which to manufacture their sensitive computer parts. In these cleanrooms the level of particulate contamination is extraordinarily low because all of the components of the cleanroom, the flooring, walls, ceilings, and the air supply equipment are made of materials which do not give off particles or gases which would harm the computer chips. We took advantage of this technology when we built the laboratory. Our laboratory is a cleanroom. The air supply to the remedy preparation and packaging areas is HEPA filtered to reduce particles in the air. Furthermore, the air from any area in which liquid potencies are prepared, or in which remedies are medicated or dried, is exhausted to the outside of the building.

Rooms in which vials are filled with alcohol for use in potentization. and in which blank pellets are put into bottles for later medication, are kept free of any potencies and are also under higher pressure than the medication rooms. This is to reduce the possibility of airborne cross-potentization.
Our laboratory is a state of the art pharmaceutical production facility, exceeding the cleanliness and workflow design standards of most of the conventional pharmaceutical plants I have seen. We are thrilled with it and have received wonderful compliments from the homeopathic physicians and pharmacists who have taken the tour, as well as the FDA personnel who inspected the laboratory, our shareholders, our customers, and friends in the homeopathic community who have visited.